News
Complexion Boost
Sun damage, diet, environmental factors and pollution can all take a toll on our skin. The results may be prematurely aged skin, poor skin tone and a lackluster complexion.
If you're looking for a boost to your complexion, microdermabrasion at Clinique Dr Adi Yoskovitch may be the answer. It's another tool to use to combat the effects of aging by revitalizing and resurfacing the outer layer of skin.
Microdermabrasion is a deep exfoliation treatment that works by using fine salt crystals, which are sprayed onto the skin and then vacuumed away to leave behind a tighter and smoother complexion. This nonsurgical procedure is performed at our clinic with minimal discomfort so you can return to work or your normal activities immediately after. Microdermabrasion is usually performed over a number of sessions, generally two weeks apart. The number of microdermabrasion sessions will be determined by the degree of damage to your skin and the area to be treated.
The procedure peels away dead skin cells leaving behind softer, smoother skin characterized by improved skin tone, a more even color and minimized pores. It also results in noticeable improvements in the appearance of acne scars, blemishes, age spots and fine lines. Skin feels softer and more elastic due to stimulated collagen growth, which microdermabrasion encourages.
Microdermabrasion may be the complexion boost you need! Contact us today for a consultation and see if this procedure is right for you.
Results are variable from patient to patient and depend on multiple variables that are addressed at the time of consultation.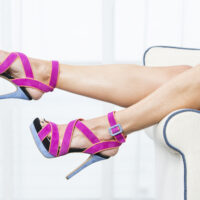 Next Article
Silky Smooth Skin All Summer Long