Blepharoplasty (Eye Lift)
As we age, our eyelids tend to lose their elasticity. Droopiness and sagging around the eyes can make us look tired and sometimes even sad. An eyelift or eyelid surgery reduces the fat and excess skin around the eyes and gives the whole face a brighter, more energized appearance. Eyelid puffiness, droopiness, and bags under the eyes can also all be improved with eyelid surgery or blepharoplasty. It may be done alone or in conjunction with other procedures such as a facelift or brow lift.
WHAT'S INVOLVED?
Eyelid surgery is performed under local anesthesia which means you're awake during the procedure but won't be feeling any pain. It usually takes from one to three hours, depending on the extent of the work being done and can be performed on both upper and lower eyelids. Following surgery, your eyes may feel tight and sore as the anesthesia wears off but this is temporary. Because eyelid skin is thin, you're likely to have some degree of swelling and bruising. Your eyes may also be light sensitive and excessively teary for a period of time. These effects generally disappear within a couple of weeks to a month, depending on the individual.
HOW LONG WILL THE RESULTS LAST?
Complete healing is gradual but within a few months, the thin surgical scars will blend into your eyes' natural folds and will be scarcely visible. Usually, results tend to last greater than ten years, but it is essential to remember that results are variable from patient to patient and depend on multiple variables that are addressed at the time of consultation.
Call Clinique Dr. Adi Yoskovitch to schedule your consultation and see if this procedure is right for you.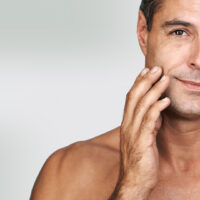 Next Service
Fractional Laser Skin Resurfacing (Fraxel®)