Facial Filler Injections (Juvéderm®)
As we age, we lose essential volume in key areas of the face, including around the cheeks, lips, eyes and temples. The result of this lost volume, allows the face to form lines and wrinkles, and sometimes result in a more tired, sad, or severe appearance. Facial fillers, such as injectable gel filler(s) (Juvéderm®) allow the rejuvenation of these areas by replacing the lost volume with naturally occurring sugars, known as hyaluronic acids or HA's. These naturally occurring sugars give the face and skin their natural buoyancy and glow, resulting in a more freshen appearance.
HOW DOES IT WORK?
Through gentle non-surgical injections, these areas can be addressed by replacing one's own lost volume to create a more freshen, hydrated and radiant appearance. HA's such as injectable gel filler(s) (Juvéderm®) help soften and fill the lines and wrinkles throughout the face. In addition, HA's are the optimal choice for lip enhancement and lip augmentation. The cosmetic results from injectables are nearly instant, with most of the patients can see immediate results while still in the clinic. HA's such as injectable gel filler(s) (Juvéderm®) can be combined with other techniques such as botulinum toxin (Botox®), fractional laser (Fraxel®) skin resurfacing, and peels to achieve a more freshen and glowing look.
HOW LONG WILL THE RESULTS LAST?
The effects of facial filler injections like injectable gel filler(s) (Juvéderm®) are instantaneous and can last six to twenty-four months, depending on various factors like the product chosen, the patient's skin structure, lifestyle, and age. Most patients opt for touch-ups within a year of the original injection.
WHAT KIND OF RESULTS SHOULD I EXPECT?
Many patients have experienced:
Smoother, plumper skin
Softening of the wrinkles and fine lines around the mouth, eyes, and forehead
Increased volume to the skin at the treated areas
Results are variable from patient to patient and depend on multiple variables that are addressed at the time of consultation.
Call Clinique Dr. Adi Yoskovitch to schedule a consultation to see if this product is right for you.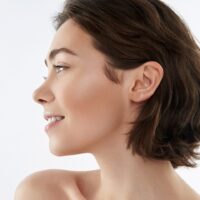 Next Service
Lobuloplasty (Earlobe Repair)