Botulinum Toxin (Botox®) Treatment
Botulinum toxin (Botox®), or botulinum toxin type A, has revolutionized the non-surgical management of lines and wrinkles in the face and is the most commonly performed cosmetic procedure in the world. Botulinum toxin (Botox®) can be specifically targeted to those areas of the face that may result in a fatigued and even angry appearance, by smoothing out the lines and wrinkles in a given facial area.
Botulinum toxin (Botox®) is a safe procedure. Indeed, with more than 4 000 studies and publications, it is the most extensively studied medical aesthetic treatment in the world. This product relaxes dynamic facial muscles responsible for lines and wrinkles. Botulinum toxin (Botox®) can be used to treat lines in between the eyes (glabella), on the forehead, crow's feet (periorbital), bunny lines around the nose (perinasal), as well as small lines around the mouth. In addition, certain patients may benefit from treating the large jaw muscles (masseters) in order to soften the facial contour.
WHAT IS INVOLVED?
Botulinum toxin (Botox®) is a purified protein that acts at the level of the muscle in order to decrease the strength that the muscles forces, much like relaxing a spring. As a result, the skin that attaches to the muscle becomes smoother and less strained, generally resulting in a more energized appearance.
Usually, the procedure last 10 to 15 minutes and the patient can expect optimal results becoming obvious after 10 to 14 days. Botulinum toxin (Botox®) can be combined with other non-surgical techniques including facial fillers, such as injectable gel filler(s) (Juvéderm®), fractional laser skin resurfacing (Fraxel®), chemical peels and intense pulsed light (IPL) therapy.
HOW LONG WILL THE RESULTS LAST?
Usually, the optimal effects of botulinum toxin (Botox®) injections become obvious within 10 to 14 days, and treatments will last from approximately 3 to 4 months.
WHAT KIND OF RESULTS SHOULD I EXPECT?
Patients can expect to see cosmetic benefits including:
Softening of wrinkles and fine lines that have been targeted by the treatment
A more refreshed and rejuvenated appearance
Results are variable from patient to patient and depend on multiple variables that are addressed at the time of consultation.
Call Clinique Dr. Adi Yoskovitch to schedule a consultation to see if this product is right for you.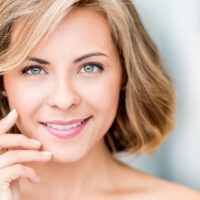 Next Service
Facial Filler Injections (Juvéderm®)