Radiofrequency Treatment (Thermage®)
The radiofrequency treatment (Thermage®) procedure can help smooth and tighten your skin for an overall naturally refreshed look without surgery or injections. Generally, some improvements are immediately visible and continue for up to six months. After treatment, you can quickly get back to your normal routine. The radiofrequency treatment (Thermage®) works on all skin types and colors. After the procedure, you do not have to avoid the sun as with laser treatments: you can schedule an appointment in the summer or any time that's right for you! The radiofrequency treatment (Thermage®) is mostly used for reshaping and skin tightening on multiple body areas like the face, eyes, neck, arms, abdomen, thigh and knees.
HOW DOES IT WORK?
As you age, the collagen in your skin breaks down resulting in wrinkles and sagging skin. The radiofrequency treatment (Thermage®) uses patented radiofrequency (RF) technology to safely heat the deeper layers of your skin, stimulating existing collagen and promoting new collagen growth.
HOW LONG WILL THE RESULTS LAST?
The effects continue to improve for up to six months following a single treatment. Results can last for years depending on your skin condition and your individual aging process.
WHAT KIND OF RESULTS SHOULD I EXPECT?
Patients can expect some collagen tightening. Many patients have experienced:
Smoother, tighter skin with less sagging
Redefined contours along the jawline and under the chin
Softening of the wrinkles and fine lines around the mouth, eyes, and forehead
Tightening of saggy skin under the chin
Results are variable from patient to patient and depend on multiple variables that are addressed at the time of consultation.
Call Clinique Dr. Adi Yoskovitch to schedule your consultation and see if this product is right for you.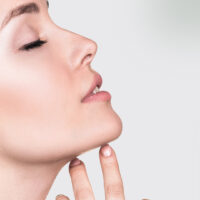 Next Service
Deoxycholic Acid (Belkyra®)